I love talking to budding writers and have delivered events at schools and festivals all over the UK and Ireland, and as far afield as Kuala Lumpur and Baton Rouge in Louisiana. While my books are primarily aimed at ages 7+  I can offer a variety of sessions which inspire reading, writing, and creativity for a wide range of ages and skill levels. I spent sixteen years as a senior lecturer at Teesside University and have over twenty five years experience delivering talks and workshops to groups of all ages, from pupils in primary and secondary schools to adults in writing workshops.
Events can take a number of forms. A day of talks and workshops to groups of different sizes, or  an hour talk including Q&A.
1hr presentation including Q&A – in-person or via Zoom
My most popular event is a one hour presentation where I talk about how I went from developing video-games to writing books. I discuss the process of writing novels, how the ideas are generated and developed and share a range of fun writing exercises that teachers can take into the classroom. This is followed by a Q&A and I'm happy to post personalised, signed bookplates for pupils who have books which they would like signing.
Workshops
These can range from fun creative exercises such as creating a school monster hunters manual or bizarre recipe book, simple creative writing exercises, to planning out a story from idea generation to synopsis, plot structure, tone and points of view. Sessions can be tailored to the ability of any group.
Virtual events
I am happy to offer virtual events through Skype or Zoom using a range of tools to create fun-filled and inspiring talks +Q&A which can be streamed to many classrooms at once.

Feel free to get in touch via my contact form for a chat about what I can offer your school or event. I'd love to hear from you!
Typical in person fees
1hr talk plus Q&A and signing: £175*
Half day: £300*
Full day: £500* Contact to discuss.
Discounts available for schools in the Teesside area.
*not inclusive of travel and accommodation.
Accommodation is not required for school visits/events in the North East/North Yorkshire, or within the Liverpool/Wirral area.
Fees charged are in line with the rates listed by The Society of Authors. Please view the link for guides on making the most of an author visit.
A small selection of some of the wonderful events I've been invited to take part in. Huge thanks go to all of the brilliant librarians, producers, and event organisers! Follow the Gabrielle Kent Author page on facebook for updates on upcoming events.
---
Doctor Who and the micro:bit – Live Lesson
In March, the lovely folks at the BBC invited me to feature as a guest expert in a Dr Who themed micro:bit Live Lesson focussed around computational thinking skills. Together with Julia Hardy, Iain Stirling, and experts from google and Ubisoft, I got to help save the world from the Daleks, a lifelong ambition that I didn't even realise I had! I also felt my baby daughter's first kicks as the Dalek was screaming EXTERMINATE!
Watch the episode here.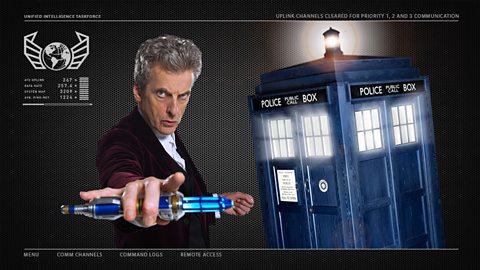 ---
World Book Day at City of London School
This year I was lucky enough to be invited to the brilliant City of London School by super-librarian, David Rose. Over the course of the day I spoke to three groups about the inspiration behind the Alfie Bloom series, all in front of the spectacular organ in the Great Hall. The views across the Thames from the school are absolutely magnificent!
---
Careers in Games, Seven Stories, Newcastle
I was delighted to be invited to Seven Stories, the award winning National Centre for Children's Books, to chat about the range of different roles within games studios, and how young people can work towards getting into the industry.
Tickets available here
---
Northern Children's Book Festival Gala Day, Middlesbrough.
The Northern Children's Book Festival is an incredible event involving dozens of librarians, fantastic authors, and THOUSANDS of young readers. The Gala Day at the end of the festival was an action packed celebration of children's books featuring such wonderful authors as Cathy Cassidy, Philip Ardagh and Barry Hutchinson!
---
Level Up: Gaming, Writing, Storytelling at BAFTA HQ
As part of London Book and Screen Week I was invited to take part in a panel discussion on writing and games with my BFF Rhianna Pratchett, journalist Leigh Alexander, and writer Rob Morgan. Big thanks to the organisers, and to BAFTA for hosting the event.
---
Crime Solvers and Magic Keepers with Katherine Woodfine at Edinburgh International Book Festival
I count myself very lucky to have been invited to speak at the Edinburgh International Book Festival just after the launch of the first in the Alfie Bloom series. It was a pleasure and an honour to share the stage with Katherine Woodfine, author of the Sinclair's mystery series who had just launched her incredibly successful first title, The Mystery of the Clockwork Sparrow. The session was facilitated by the brilliant Lindsey Fraser, from Fraser Ross.
Testimonials
"Year 7 & 8 thoroughly enjoyed Gabrielle's visit to Rye Hills Academy. She was very friendly and had a great sense of humour, the students were queuing up to meet her and have their books or bookmarks signed. Weeks later they are still buzzing about her visit and asking for her books in the school library."
"I would definitely recommend you invite Gabrielle Kent to your school. Budget money well spent: 5 hours contact time with the students plus unlimited book signings, the students learned a lot about creative writing that day and we have had some very enthusiastic and positive feedback from them afterwards."
"Students really enjoyed the assemblies and were encouraged to interact with Gabrielle and share their thoughts and ideas, she created a really positive and energetic vibe. They particularly loved her process for making up character names!"